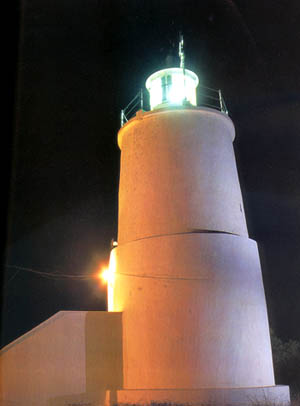 Today Spetses Lighthouse's Fresnel lens and its pedestal are on display at the Hellenic Lighthouse Service headquarters in Piraeus. A modern beacon shines from the lighthouse. Except for the addition of more rooms in the residence and updates of modern conveniences and equipment, Spetses Lighthouse looks much as it did in 1885. It is a conical, telescopic-style masonry sentinel standing on a low hill. A lovely interior feature of the dwelling is ironwork around the front-door window that features a lighthouse with rays coming from the lantern.

The modern beacon flashes white or red every five seconds depending on the direction from which it is viewed. The lighthouse was automated in 1986 but was still manned by lightkeepers as of 2009. It is accessible by road from Spetses town but there is limited vehicular traffic on the island. A motorcycle, water taxi, car taxi, or horse-drawn carriage can be hired to reach the lighthouse.
LIGHTHOUSE SPETSES

Nearest Town: Spetses
Date Established: 1831 - rebuilt 1885
Focal Plane: 88,6 feet (27 meters)
Heigth of Tower: 38 feet (12 meters)
Characteristic: white or red flashes every 5 seconds

Spetses Island lies at the Southern end of Argolis, a mile offshore in the Golf of Argolis. Ferries connect to the island from Piraeus and nearby Kosta on the Peloponnese. Spetses is famous for its fragrant flora, including many wildflowers and Aleppo pine forest. Large vehicular traffic is forbidden but residents and visitors have plenty of horse-drawn carriages and donkeys for transport. The lighthouse has a helicopter pad for use by the Hellenic Lighthouses Service.
Spetses was home to Laskarina Bouboulina, a national hero who spent all her fortune to build ships to fight in Greece's War of Independence against Turkey beginning in 1821. Her statue stands on the waterfront at Dapia Harbor also called Limani and her
bones are kept in a nearby church.
On a promontory enclosing the east side of the harbor at Final Point is the lighthouse. It is one of the oldest lighthouses in modern-day Greece, established in 1831 with funds a public tax levied shortly after Greece gained independence and with money donated by a wealthy family on the island. The original tower's lamps probably were illuminated with olive oil but whale oil also may have been used.
The tower was rebuilt in 1885 and equipped with a kerosene beacon. Ioannis Nouhakis wrote in the 1901 edition of Greek Horografia: "On the Northeastern entrance of the old harbor exists a white constant light of the sixth order, on a round stone-built tower. At a distance 30 meters north of the tower is the residence of the keepers."