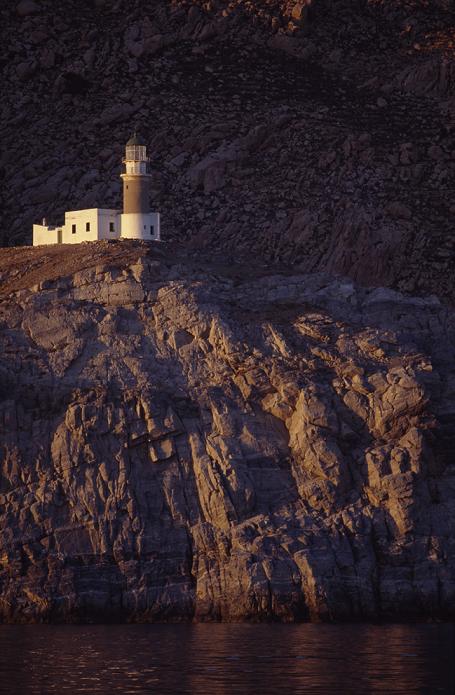 The cylindrical stone lighthouse adjoins a modern square dwelling, repaired after World War II. Behind the dwelling is an enclosed courtyard, protected from southerly winds. Old stone walls surround the compound, which is verdant - a benefit of its windward exposure. The tower's magnificent Fresnel lens was removed in the 1990s, but was too large to relocate and so remains in storage on the site. A modern PR-500 optic al so know as a "grill" beacon visible 25 miles (40 kilometers) out, replaced the Classical lens. As of 2009, the lighthouse had three resident keepers. They report that they share quarters with a ghost and the lighthouse is frequently hit by lightning.
The lighthouse is accessible by a 3 mile (5 kilometers) trail from the village of Karkinagri.
LIGHTHOUSE PAPAS (IKARIA ISL)

Nearest Town: Karkinagri
Date Established: 1890
Focal Plane: 246 feet (75 meters)
Heigth of Tower: 36 feet (11 meters)
Characteristic: one long (1.3 sec) white flash every 20 seconds

Mountainous Ikaria is the southernmost island of the Sporades, but some cartographers contend it belongs more to Dodecanese Island group than the Sporades. Navigators certainly would agree, since Ikaria sits close to the shipping lanes of the Southeast Aegean Sea.
Pappas Lights marks Ikaria's precipitous southwestern cape, a lonely spot facing the Cyclades and the south-central Aegean Sea. Cape Pappas takes its name from a Catholic priest who nearly died here in a shipwreck long ago.
The lighthouse has long been known locally as "the Priest". It was built by the French company Umanic and commissioned on May 20, 1890 equipped with a second-order flashing lens. The station was established by the Ottoman Empire and transferred to Greece on April 9, 1915.